Login into your Avis Account
Sign In to your Avis Account
Location services must be enabled to choose your car. Please check your browser's setting.
The Sweet Spot Club Hire Partnership
The Sweet Spot Club Hire Partnership
About The Sweet Spot Club Hire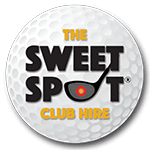 The Sweet Spot Club Hire (TSS) makes golf travel simple by offering latest to market golf equipment at quality prices in Australia. TSS will deliver them to the golf course or hotel of your choice which removes the hassles associated with travelling with clubs. 
The process is simple... golfers can go online and reserve their clubs in a matter of minutes. The next thing you know, those clubs will be waiting for you at your destination removing all of the hassles of bringing clubs with you. 
The benefits of hiring clubs from The Sweet Spot: 
1. Avoid the costs of excess baggage fees
2. Save time and effort of lugging heavy clubs through the airport
3. Eliminates the stress of your clubs being lost or damaged. 
4. Play with latest to market clubs from Taylormade, Callaway and Titleist. 
TSS Club Hire have partnered with Avis to offer their customers a special discount on their golf club rentals. 
As an Avis customer, you will have access to 10% off any golf club rental through TSS Club Hire. 
To hire your clubs in Australia from as little as 20AUD per day please visit www.tssclubhire.com